ELITE™ Polyclonal Antibody Services
Abgent is a leading manufacturer of off the shelf and custom antibodies with over 20,000 antibodies developed over the last decade. Our polyclonal antibody services provide a fast and economical solution with extreme flexibility - we offer primary Polyclonal Antibody Service (see list below ) to choose from, where you can provide your own immunogen or work with our world-class synthetic peptide chemistry group to design an epitope-specific and immunogenic peptide to meet your specifications.
Additionally, Abgent can develop a pre-optimized antibody validated in the assay of your choosing. Please contact us to learn more about these and other service offerings.
Our ELITE™ polyclonal antibody service offering list includes the following:
Peptide antigen design and preparation: Peptide synthesis of up to 18 AA residues (20-30 mg) with a purity > 80%
Peptide conjugation to KLH
7
14
Protein antigen design: Recombinant protein preparation
7-14
One primary subcutaneous injection of 200 ug conjugated peptide/protein in Complete
Freund's Adjuvant
1
Five subcutaneous injections of 100 ug conjugated peptide/protein in Incomplete Freund's
Adjuvant
14-56
Test bleeds and ELISA analysis on test bleed #1, and test bleed #2 if #1 is negative
35-49
Five production bleeds
39-69
Terminal bleed by exsanguination (±40 ml serum/rabbit), final ELISA analysis
69
Peptide affinity purification for total yield of 2-10 mg IgG from 2 rabbits
76
Validation test by WB (optional and limited guarantee available)
3
Validation test by IF (optional and limited guarantee available)
3
Validation by IHC (optional and limited guarantee available)
3
Validation by FC (optional and limited guarantee available)
3
Total:
~80-100
In order to minimise your expense Abgent offers customised package (see example below):
ELITE™ Polyclonal Antibody Services Premier Package
Immunogen:

Custom peptide design and synthesis
Customer supplied immunogen
(protein or peptide)

Procedure:

Peptide-KLH conjugation
Immunization of rabbits
(2 animals)
Antisera production
ELISA titer test

Purification:

Peptide affinity column purification

Deliverables:

• Peptide sequence • ELISA titer • 1ml of prebleed per rabbit • Post immunization bleeds as requested
• 5mg of peptide • 2-10mg of purified antibodies • Project report

Project Timeline:

12-14 weeks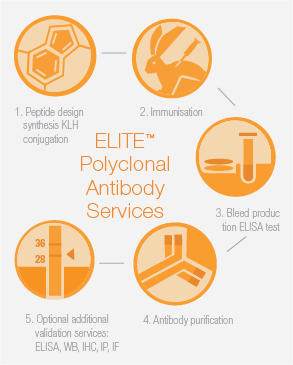 How It Works:
Customers can simply select their desired services or the whole polyclonal antibody package and send us your specific requirements.
Our experienced tech support representatives can also guide you in the process of selecting the service package that best suits your research goals.
Abgent will deliver your polyclonal antibody with guaranteed quality in timely manner.
Request quotation
Order Information:
Email:
USA: quote@abgent.com
Phone:
USA: 888.735.7227 (toll free) or 858.875.1900
Fax:
USA: 858-622-0609
For additional information visit :

ELITE Custom Antibody Service Presentation


ELITE Custom Antibody Service Brochure